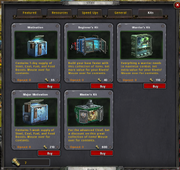 Kits are bundles of items sold together through the In-Game Item Shop. Each Kit contains several items, the aggregate price of which would be substantially higher if purchased separately. Kits may only be purchased with Rivets.
There are five different types of kits sold:
Ad blocker interference detected!
Wikia is a free-to-use site that makes money from advertising. We have a modified experience for viewers using ad blockers

Wikia is not accessible if you've made further modifications. Remove the custom ad blocker rule(s) and the page will load as expected.